The CMA series is a 1.5 or 2 HP, variable speed, direct drive lab/small production disperser designed for use in 5 gallon pails. It is VFD inverter controlled, and uses either a 3" or 4" Cowles style sawtooth impeller. This is an economical, heavy duty disperser that provides full dispersion speed. Available with either a TEFC motor, or explosion Proof motor, it runs off standard 115 or 230 volt single phase AC power for the 1.5 HP machine and 230V single phase on the 2 HP machine. The 14" pneumatic lift is standard, but this unit may be ordered with a hand crank lift mechanism.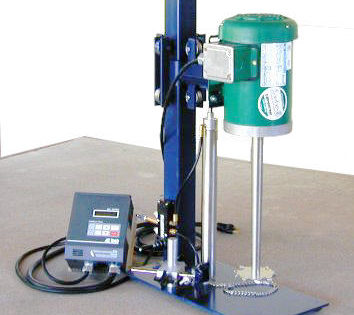 Specifications:
Motor: 1.5 or 2.0 HP, TEFC or Explosion Proof.
Controller: Programmable Variable Frequency AC drive with built in RPM readout.
Power requirements: 115 V, single phase 20 amp circuit or 220V 10 amp single phase.
Shaft RPM: Approximately 400 to 4200 RPM as standard, higher RPM ranges available.
Shaft: 304 stainless steel, tapered for smooth running, 14" long, 1.187" diameter at top, 1" diameter at bottom.
Air requirements: 80 PSIG, nominal volume for air lift.
Lift: Pneumatic air cylinder with control valve, 14" stroke as standard. Optional hand crank lift available at extra cost.
Support stand: Heavy steel base 11.5″ by 23.5″, with roller bearing carriage for motor assembly raising.
42″ overall height.
Weight: 70-110 pounds, depending on motor options.
Impellers: 3" and 4" are supplied.
Accessories: Adjustable mix container holder is standard.
Applications: Accepts up to standard 5 gallon pails for mixing and dispersing.
Pricing:
1.5 HP, 4320 RPM Maximum speed, TEFC only, as shown above: $4295.00
1.5 HP, Explosion Proof motor, 500-5400 RPM, as shown above: $5295.00 ( delivery may be extended)
1.5 HP, TEFC/XP, 500-7200 RPM, as shown above: $5395.00 (delivery may be extended)
2 HP, 400-4320 RPM, 220V only, TEFC only, as shown above: $4850.00
Hand crank lift in lieu of Pneumatic lift: Add $190.00 for hand crank
Extra impellers, 3″ or 4″: $135.00 each
Rotor-Stator attachment with motor adaptor, and mix shaft: $1495.00
Contact Us
If you have any questions regarding the CMA-150 Disperser or any similar custom builds we could provide, please contact us at 928-567-2588 or dhmelton@earthlink.net today.