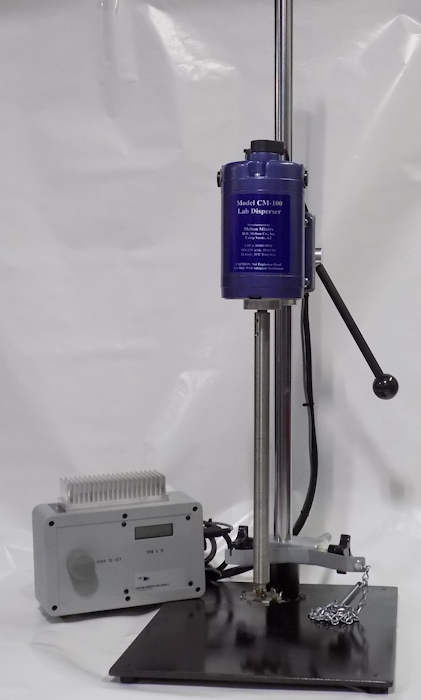 This precision crafted bench top high shear Lab Disperser allows you to mix, disperse and emulsify in quantities from a 100 CC's, up to 2-3 gallons.
---
Ultra high speed operation, and a choice of impellers, optional Rotor-Stator attachment, and media mill attachment makes this a versatile piece of equipment that every laboratory needs for productivity and precision. The CM-100 laboratory disperser is very similar to the old Premier Mill Dispersator, and most parts will interchange.The standard machine comes with a Cowles style open sawtooth impeller, with optional impeller sizes from 1″ up to 2.5″.
---
NEW!: We now offer Simplex and Duplex type dispersion heads similar to the old Premier Mill heads, $350.00-$500.00 each, in 1.015″ and 1.4″ diameter.
---
The Digital Feedback control type control shown in the picture of the CM-100-M3 senses changes in motor speed due to product viscosity changes, and adjusts the power to the motor accordingly, to hold the speed constantly at the level you selected.
---
The analog control used on the M1 and M2 CM-100 lab dispersers have a simple 1 through 10 type analog speed adjustment knob, but will not hold constant speed as the product viscosity changes. The M1 or M2 CM-100 is an economical, easy-to-use alternative to the M3. The controller type option is the only difference in the machines.
Specifications:
Motor: open type series wound motor, generates 1 HP @ 10,000 RPM
Speed range: approximately 100-16,000 RPM
Disperser shaft: 304 Stainless Steel, 3/4″ diameter by 12.5″ long
Impellers: Cowles style sawtooth, 1″, 1.25″, 1.5″, 2″, and 2.5″. A 2″ impeller will be provided with the CM-100 unless specified otherwise.
Stand: 15 pound rectangular steel base, and 1″ diameter by 36″ long chrome plated steel support rod
Controller: 10 amp variable transformer (M1), 12 amp triac electronic controller(M2), or programmable digital feedback controller(M3)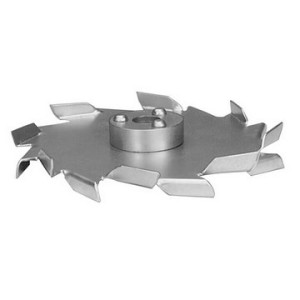 Options:
Mix container holder, to secure small containers when mixing (comes standard on the M3 CM-100)
Rotor Stator attachment, with 1.1″ rotor
Media mill attachment, shaft with three 1.75″ discs for media milling
Jacketed stainless steel mix vessels in various sizes from 1 liter up through 4 liters
Rotor-Stator Attachment
The optional Rotor-Stator creates up to ten times as much shear as a standard open style sawtooth Cowles type impeller. The CM-100 Rotor-Stator has a 1.1" rotor. The stator is 2.25" maximum diameter, so it may be used in containers as small as 3.5" in diameter, and in containers up to 8 or 10" diameter. Wetted parts are 304 stainless steel, with a replaceable Delrin bushing. The Rotor-Stator can be used for harder to wets dispersion and some emulsifications on products that need more shear than a sawtooth type impeller, but not as much shear as a as media or bead mill provides.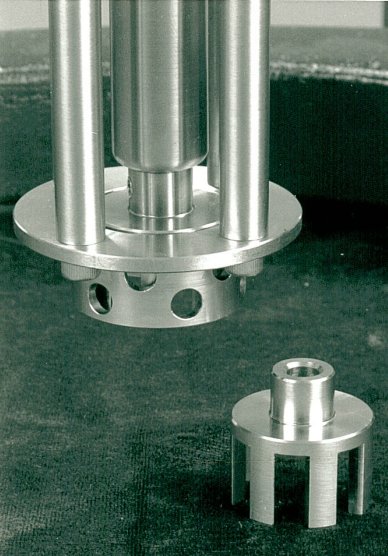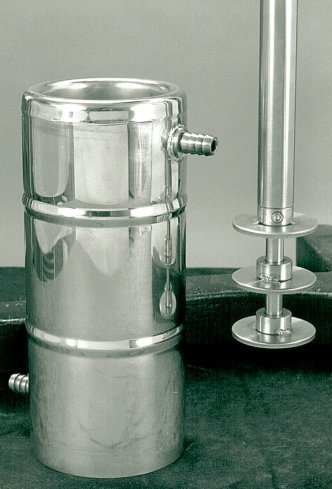 Small Media Mill Attachment
This batch type media mill is typically used with glass, zirconia, ceramic or steel beads of .5MM up to 2 MM diameter. It consists of shaft with three 1.75" diameter discs, and optional jacketed media grinding vessel 2.75" inside diameter. This systems is useful for estimating media type, density and size, as well as product residence time required, and input product viscosity when scaling up to a larger continuous flow production small media mill, either vertical or horizontal, minimizing waste. As a batch type mill, it is used by starting with approximately 150-200 ml of beads and adding enough predispersed product to bring the total volume of bead and product up to 200-300 ml. After testing grind time with different media size or type, the contents are poured into a customer supplied screen or sieve to separate product from the media, and a grind sample is tested, either by particle analysis machines or by a simple Hegman type gauge.
Automatic Digital Motor Speed Controller for the CM-100 Laboratory Dissolver
The M-3 controller machine is no longer available. Please inquire about out CML-500 and CML-1000 dispersers with VFD control,a nd 360-7200 RPM range, Priced at $3395 for the 1/2 HP version, and $3595 for the 1 HP version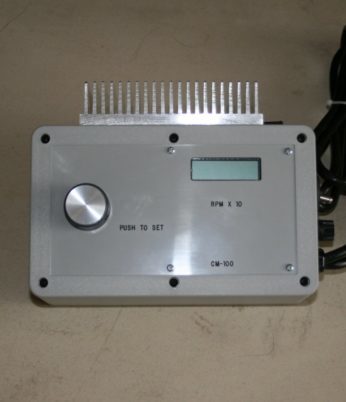 Physical Description:
The speed controller is comprised of two components: a controller box, and a motor speed sensor. The controller box is approximately 6″ x 8″ x 3″ in size with jacks to accommodate motor power and the speed sensor.
The controller has a 3 digit LCD display that is selected to either set desired motor RPM or to monitor motor RPM in the tachometer mode.
A twelve amp power line fuse is installed on the side panel. The controller connects to any standard 110 volt VAC power outlet.
The motor speed sensor that mounts directly on the motor is optically based and has a long service life.
Operation and Controls:
The controller box has two operator controls: Power On/Off, and Tachometer/Speed Set knob.
The Speed Increase/Decrease knob is operated by viewing the LCD display and depressing the knob while turning, until the LCD display counts up or down to the desired RPM.
When the speed adjust know is depressed, the set speed shows on the LCD display.
When the knob is in normal position, actual motor RPM is displayed.
The three digits are calibrated to x100 RPM scale, that is, a display of 010 would indicate 1000 RPM and a display of 100 would indicate 10,000 RPM.
Performance:
Motor RPM can be selected by 100 RPM increments to a resolution of 100 RPM as indicated by the LCD display.
Although the RPM range selection is 0 to 19,800 RPM, actual motor performance is approximately 400 RPM minimum to 16,000 RPM (no load) maximum.
This product was designed and developed by the D.H. Melton Company, Inc., exclusively for the CM-100 laboratory dissolver. Other applications may be feasible. Please contact factory.
Also Available:
Fully programmable Option with software to interface with any Windows based PC.
Price List
You must order by phone so we can verify application. 928-567-2588
CM-100 Variable speed lab Disperser (Non-Explosion Proof)
PART DESCRIPTION
PART NUMBER
PRICE EACH
CM-100 without tachometer, includes stand, wound transformer type variable speed controller, shaft and one impeller. 110V only.*
Same as M-10001, except with electronic speed control (non-feedback type) in lieu of variable transformer. 110V operation, without tachometer.
CM-100 with programmable controller and digital tachometer (feed-back controller maintains selected speed under load). Includes mix container holder and shaft and one impeller. 110V
No longer available, see our CML-500 and CML-1000 machines
Spare impeller with ¼" hub, (1" – M-10021, 1.25" – M-10022, 1.5" – M-10023, 2" – M-10024, 2.5" – M-10025).
Standard Disperser shaft with ¼" pin for hi-shear impellers (no impellers).
CM-100 motor only, with or without encoder
$1200.00 w/o encoder, $ NLA w/encoder
Jacketed, .5 liter jacketed, stainless steel media mill vessel.
Rotor-Stator Assembly, 1.1" Rotor includes new mixing shaft and adapter piece.
Jacketed, stainless steel mix vessel, (1,2, and 3 liter).
Counter tension device for effortless raising and lowering of shaft/motor assembly
CM-100 Lab Media Mill (Non-Explosion Proof)
PART DESCRIPTION
PART NUMBER
PRICE EACH
CM-100 with three 1 ¾" discs on stainless steel shaft with programmable feed-back controller with digital tachometer and vessel holder. (Batch type milling only.) Price includes vessel M-10041
Media mill shaft with 3 discs
Contact Us
If you have any questions regarding the CM-100 Disperser or the controllers available, please contact us at 928-567-2588 or dhmelton@earthlink.net today.