Multi-Shaft Mixers & Dispersers
Small 1 Quart Multishaft High-Viscosity Vacuum Mixer
We manufacture custom multi-shaft mixers and dispersers for laboratory, and small batch production. Batch sizes can range from less than one quart, up to over 1 gallon, depending on your needs. Options include vacuum capability, jacketed mixing vessel and various instrumentation. Please contact us for your needs.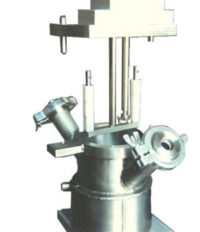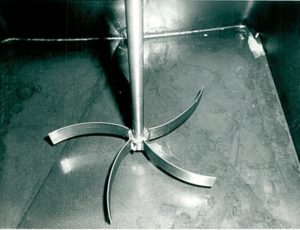 Mixers and Mixer Stands
Miscellaneous products we manufacture include custom low speed turbine agitators for up to 1000 gallon tank sizes, and portable mixer stands.
The mixer stands come in various configurations, including all stainless steel construction, and lift assists including pneumatic, counterweight style, and hand crank style.
Small Agitator & Mixer Systems
All stainless steel construction, these four 7 gallon agitators are part of a bank of 35 tint mixers for feeding color concentrates to an automotive automatic spraying system. We can build about any variable speed electric, or pneumatic mixers and agitators to meet your requirements.
Contact Us
If you have any questions regarding our custom Multi-Shaft Mixers & Dispersers or any similar custom builds we could provide, please contact us at 928-567-2588 or dhmelton@earthlink.net today.